A few weeks ago, a tragic news shocked the U.S. when a couple using the rails to travel around the States was found dead under a pile of coal in a power plant in Lakeland, Florida. Christopher Artes and Medeana Hendershot, who fell in love because of their shared passion for travelling, were on their way to Florida to spend the winter there. Sadly, they unwittingly rode their last freight train together. Their lifeless bodies were found by power plant workers buried under a load of coal. Authorities are still unsure of the circumstances surrounding their death.
Train hopping (also known as freighthopping) is "the act of surreptitiousy hitching a ride on a railroad freight car."(1)  It is a practice that began right after the American Civil War and has grown popularity during the Great Depression when migrant workers, also known as Hobos, would hitch-hike on the rails in search of work.
Suprisingly, hobos were not just men, but women as well. In a book I'm currently reading called Sister of the Road, an anonymous American woman who called herself Box-Car Bertha, wrote about her railroad exploits in the 1930s.
"Girls and women of every variety seemed to keep Chicago as their hobo center. They came in bronzed from hitch-hiking, in khaki. They came in ragged in men's overalls, having ridden freights, decking mail trains, riding the reefers, or riding the blinds on passenger trains… The bulk of these women, and most all women on the road, I should say, traveled in pairs, either with a man to whom by feeling or by chance they had attached themselves, or with another woman."
Today, despite the ban imposed on it, train hopping lives on. People like Artes and Herdershot were just two of the many who risk life and limb just to get the adrenaline high of catching out.
Kevin Rice, who writes about his train hopping adventures in his website, admits that it is not for everyone. Despite his love for freighthopping, he says: "I don't recommend it and I encourage people not to do it."  Needless to say, freight-train riders are vulnerable to many dangers on the road, including falling off the train, getting robbed or even raped, and getting crushed by railroad cars.
For the more conservative (and well, sensible) lot, the safest way to travel on the train is to go on escorted train holidays. Most US rail holidays  not only unload one of travel anxieties but provide the much-needed security as well.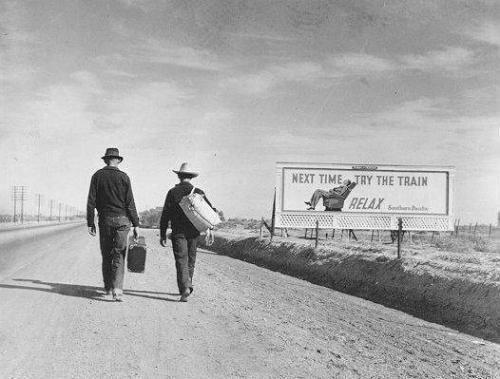 No matter how you decide to ride the rails, one thing is for sure… the romance of rail-riding will never die. In fact, not a few writers have immortalized this practice, including the literary giant and avid traveller Jack Kerouac.  Here's a clip from the film "What Happened to Jack Kerouac" in which Kerouac reads an excerpt from his book "October in the Railroad Earth".
(1) http://en.wikipedia.org