My heart is pounding. And no matter how hard I inhale, I can't seem to fill my lungs with air. I want to give up and just lie down on the slippery ground. I am such a weakling. A couple of local boys happily skipping down the steep mountainside with impressive agility only added insult to my injured self-esteem.
My husband and I are in the middle of a long trek going up to the remote village of Buscalan in Kalinga, Philippines. We are on our way to see the famous tattoo artist Whang Od, said to be the last Kalinga tattoo artist of her generation.
But before we can actually see her, we have to go through several obstacles first, namely: an 11-hour bus ride from Manila to Tabuk, the capital of Kalinga; a 3 1/2-hour jeepney ride from Tabuk to Bugnay; and now this, a 2-hour hike from Bugnay to Buscalan.
In the interest of truthfulness, I will admit that we cheated a little. We cut short the 2-hour hike by riding a motorcycle from Bugnay to "Turning Point", aptly named because it's the last point where vehicles can drop off passengers going to Buscalan. From there, the road tapers down into narrow footpaths that slither up and down the mountainsides.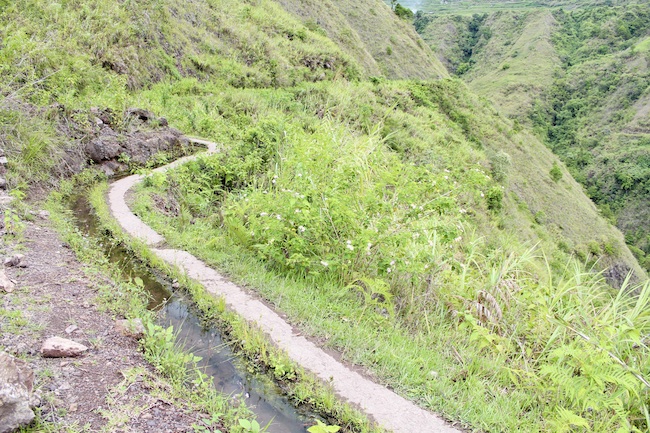 But the ride only cut about 2 or 3 kilometers off our hike. So we still have to trek about 2-3 kilometers more. With no training or even exercise prior to the trip, it is proving to be a grueling task. Our lack of planning also didn't prepare us for this:
We are now on the final stretch of our trek. A man we met along the way said the village is just a few feet away. For a moment, I contemplate on asking my husband to carry me the rest of the way.
"Gaano kalayo pa po? (How much further is it?)"
"Malapit na. 'Pag may nakita kayong tent sa taas, iyon na. (It's very near. If you see a tent, that's it.)"
" Tent?"
"Oo. May kasal kasi! (Yes.  There's a wedding!)" He smiled, flashing his betel nut-stained teeth.
A wedding?  In the mountains?  This I got to see!  I muster the last of my remaining strength and put one foot infront of the other.  Then, just ahead I hear my husband shout: "Yun na! (There!)"
And there it is… in the middle of nowhere, a technicolored tent! From where I stand, it looks like the top of a carousel.  Underneath that tent lies the village of Buscalan where I will finally meet the last living tattoo artist of the Butbut tribe. I almost weep with happiness.
Next:  A Warm Welcome
Previously:  Off to See Whang Od